November 27, 2018
Here come the holidays!
Ho Ho Ho! Plan ahead for holiday hours
Monday daycare dogs please take note: K9 will be closed for Doggie Daycare on Christmas Eve.
Here's our holiday schedule:
MON 12/24: Open until 12 p.m. for boarding drop-offs and pick-ups (but no daycare).


TUE 12/25: K9 Country Club will be closed.


MON 12/31: Open regular hours for Doggy Daycare and boarding.


TUE 01/01: K9 Country Club will be closed.


And if you need boarding over the holidays but haven't yet made your reservation, call now! We're opening up holiday slots to non-daycare dogs now.
Reminder... no boarding January 26 -31
Just a reminder that we will be closed for overnight lodging from Saturday, January 26 through Thursday, January 31. All dogs boarding the week of January 21 will need to be picked up on Friday, January 25. We will take overnight guests again on Friday, February 1.
Laurie will be attending a seminar with other doggy daycare owners from all over the world, taking place in Austin, Texas.
As the date gets closer, we will let our daycare clients know if there will be daycare that week.
Cold weather care
When the weather turns cold, it's important to take extra precautions to ensure your dog is healthy and happy no matter the temperature.
Fresh water: If your dog spends any time outdoors, make sure your dog's outdoor water dish isn't frozen solid. Pet stores and outdoor supply stores sell heated water bowls and other devices that will prevent the water from freezing.
Ice melt: If you use ice melt around your home, make sure it's safe for your pets. Most brands will say so on the label.
Antifreeze: Don't leave antifreeze out in an open container, and promptly clean up any spills or leaks. Every year, dogs and cats are fatally poisoned by drinking antifreeze. They think it tastes good!
Paw care: After a neighborhood walk or a romp in the park, wash and dry your dog's paws to remove any de-icing chemicals or road salt your dog was exposed to. Also check between the paw pads for any clumps of ice or salt. If your dog has sensitive feet, consider purchasing some booties for your dog to wear when walking outside in the winter.
Extra coat: Even with a thick winter coat, your dog's fur may not be enough to keep warm in very cold weather. Short-haired dogs may require a sweater when the temperature drops.
Cold cars: In sub-freezing weather, your car can act like a refrigerator, so never leave your dog in an unheated car.
Stay inside: Please remember... if it's too cold for you outside, it's too cold for your dog (and your cat). The safest place for your pets is inside with you. But... be sure your home is also a safe place for your pets during the holidays by keeping poisonous plants, hazardous packaging and especially holiday food out of their reach.
Be a hero this holiday season...
Support Project K-9 Hero
K9 Country Club has been following Jason Johnson, K-9 Flash, and Project K-9 Hero for the past several months. Jason was a police officer in Yakima and K-9 Flash was his partner. K-9 Flash has her own children's book and is known all over the country for her courageous police work as a narcotics dog here in Yakima. She was deployed more than 3,000 times with many successes! K-9 Flash also won the 2018 Law Enforcement Dog of the Year award!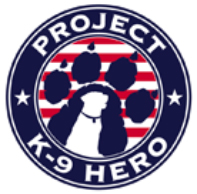 This is a worthy cause if you want to donate to something that will truly make a difference in the life of a dog. They have quality apparel, a new 2019 calendar, and many options for donation. Go to the Project K-9 Hero website (https://projectk9hero.org/) or their Facebook page (Project K-9 Hero) to read more about the great work they are doing to care for retired working dogs!