Requirements
In order to provide a safe and healthy environment for all pets under our care, we require the following:
Client Questionnaire
Before enrolling in our daycare or boarding program, please complete our client questionnaire. The information will help us provide the best care possible for your dog.
Click here to download and print a copy of the K9 County Club Client Questionnaire to bring or mail to us.
Vaccinations: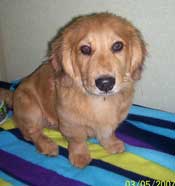 Dogs must have proof of up-to-date vaccinations (or a letter from a veterinarian stating exemption).
Puppies less than 1 year old require a full series of DHLP/P and Corona (usually three vaccinations), Bordetella and Rabies.


Dogs over 1 year require yearly vaccination boosters, with Bordetella boosted twice yearly.
Parasite screenings:
All dogs coming to K9 Country Club for the first time are required to have a fecal examination to check for both giardia and other parasites common in our area. The fecal examination is easily done by taking a small sample of stool to your veterinarian's office. The exam must check for giardia AND common parasites. Fecal exams are required yearly thereafter.
Flea and tick protection:

All dogs must be treated with monthly topical flea/tick protection such as Frontline®, Advantage® or other product available through your veterinarian.
Flea baths, collars and powders are not acceptable substitutions for these products.
Frontline Plus® is available at K9 Country Club for $20 per application.
Spay and neuter:
Unless your veterinarian recommends delaying the procedure, dogs older than eight months must be spayed or neutered if enrolled in K9's Daycare Deluxe program or when boarding with us. (If you plan to breed your female dog, please call us to discuss the options available for your dog.)
Sociability: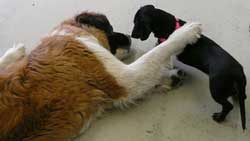 A note to the dogs... You have to get along to have fun!
Dogs are expected to display basic manners with the other dogs and people at K9 Country Club. We do not accept dogs who are aggressive, have a history of biting, bark excessively, or engage in destructive and dangerous behaviors such as digging under, jumping over or climbing fences.
Prior to boarding or enrolling in our daycare program, your dog will be evaluated for socialization skills and may be re-evaluated if a troublesome behavior develops.
Prior to boarding at K9 Country Club, every new dog
must come for an evaluation and sociability test.

Download a copy of the
K9 Country Club Doggie Daycare and Boarding Agreement
(requires Adobe Reader)