A Day in the Life
of a K9 Country Club Camper
Come!
(Enjoy a day at camp!)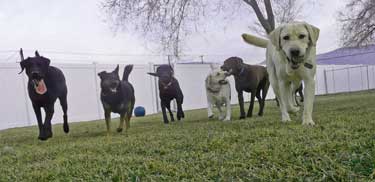 Up and at 'em...
Campers awake early in the morning and go out to the play yards for potty time and a big stretch. Breakfast is prepared while campers enjoy their early-morning get-together. With breakfast awaiting them, all campers return to their private suites for their morning meal and a little quiet time while their food digests. Then it's playtime!
Let the games begin...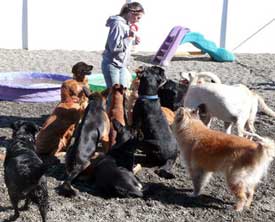 Campers are organized into play groups depending on size, age and temperament. Playtime is supervised and our staff interacts and plays games with the dogs during this time. It is a great social time for all and the campers are tired by nap time.
While the dogs play, their suites are swept, mopped and fluffed.
After a morning of fun, all campers relax in their freshened suites with a snack and a nap from noon until 2 p.m. This is their chance to rest and re-energize for the afternoon.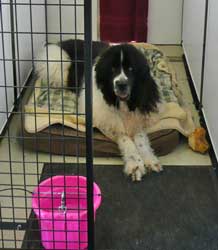 After nap time, campers go back to the play yards for more fun and socialization. The afternoon is generally more subdued, but it's still a great time to run and frolic with friends, kick back under a shady umbrella, or enjoy a splash in the pool.
We play "manner" games with the campers in the afternoon (sit stay, down stay, etc.) to reinforce good behavior and mentally stimulate them.
At the end of the day...
Campers return to their suites in the late afternoon for dinner and rest. (They are READY for both!) Hungry and tired from the day's activities, our campers eat and sleep well. They settle down with a bedtime biscuit on their pillow, then it's lights out and sweet dreams.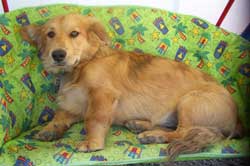 What a life!