April 8, 2017
Sweet signs of spring
Everybody is happy to be out in the sunshine and enjoying some of the new spring-time additions at K9 Country Club. We've added two new benches (er... chin rests), new shade awnings and some new artificial turf runs that the dogs love the feel of. And when it's a little warmer we'll open the pools!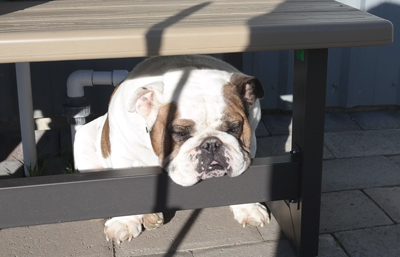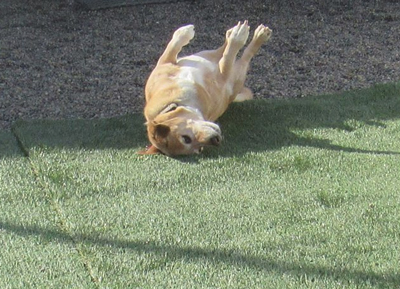 Trying to keep the "bugs" out
With spring upon us, so are the "bugs" that can make your dog sick. The "cough" is the usual threat in our Valley as spring arrives, and this spring is no different. In talking with several veterinary clinics last week I learned they are seeing some coughing dogs and some sneezing dogs. We had our own issue with a handful of sneezing dogs last week (five dogs, total). At first I hoped it was only allergies (any facility owner prays for allergies when ANY dog coughs or sneezes), but after speaking to the clinics, and with several dogs having the same sneeze, it became clear that it was some sort of contagious "cold." Fortunately it was very short-lived and the only symptom was a sneeze (mostly when the dogs went outdoors into the fresh air).
Many owners continue to be surprised that their dog(s) can pick up a cough or sneeze even if they are vaccinated. The fact is there are many pathogens that cause coughing and sneezing (viral, bacterial, mycoplasma) and only a few of these bugs can be vaccinated against. All of these pathogens are very contagious and spread like wildfire once inside a dog facility. It is because of this that we require every dog be vaccinated and appear healthy before being allowed inside our facility. The problem with these illnesses is that a dog can appear totally normal but already have the bug and be spreading it before showing any symptoms. (Which is exactly what happened in this instance.) This makes it very difficult to stop the bug before it enters our facility.
Once we realized the dogs probably DID have a bug, we went into lockdown mode and ramped up our already intense disinfecting protocol. No new dog evaluations, no boarding additions. The sneezers got to play with each other but not with anyone else. They had their own play spaces both inside and outside. They had their own dedicated "person" who cared for them and no one else. They had daily physical exams noting any abnormalities other than the sneeze (and there were none). Their owners were called and apprised of the situation and were kept in the loop. We changed clothes at lunch and at the end of the day, and started with clean clothes going into the next day. We hung sheets between the little dog room and the big dog room to help prevent airborne spread. All overnight guests stayed on the boarding side of the facility and the daycare dogs stayed on the daycare side of the facility. (We usually mix the two groups of similar dogs, depending on who is boarding, and they move all around the facility). Going into spring break, we called all the incoming boarders' parents to let them know about the sneeze, even though it was a very small problem. We spent all day Friday disinfecting both boarding rooms in preparation for the incoming dogs, and then moved all boarders to the daycare building for the first night so the boarding building could air out with all doors open overnight. The dogs thought it was great since it was a big slumber party!
So, why am I telling you this story? Two reasons:
1. Be on the lookout for any sneezing or coughing in your own dog(s). Until these bugs have made their rounds and fizzle out (usually 3-4 weeks) please DO NOT take your dog to the dog park, pet store, groomer, or other places where dogs socialize. IF you do take your dog to any place where he/she comes in contact with other dogs, please call us before bringing your dog to K9. IF your dog comes to daycare or is scheduled to board with us and you hear ANY sort of cough or sneeze, PLEASE call us before bringing your dog to us.
2. I realize we have many protocols and requirements in place before your dogs can enjoy our facility. This is one of the reasons! Getting a "bug" in a facility is every facility owner's fear. IT IS A BIG DEAL! The intensity of work and worry is significant for those of us who care for and love your dogs. At K9 Country Club, we take our responsibility for your dog's care seriously, and we strive to do the best job we can to keep all dogs happy and healthy.
After this LONG HARD winter, we are thrilled to have spring knocking on our door... we just don't want to let the bugs in with the season!
Thank you for your understanding and cooperation, and for trusting us with your furry family members.
Laurie
Be a Winner!
Wags to Riches Animal Rescue is holding their popular raffle, and K9 Country Club will make a matching donation for all tickets sold here! Raffle tickets are $1 each and are available through May 10. The winner will be announced on KXDD (104.1 FM) on May 11 at 8:10 a.m.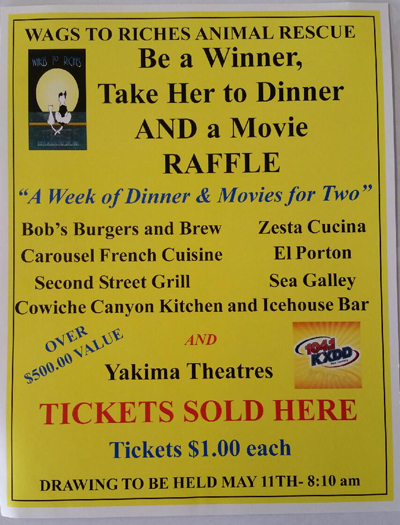 Reminder for boarders...
Plan for your drop-off and pick-up days
When boarding your dog, drop-off is between 8:00 and 9:00 a.m. on the first day of boarding. If you have an early morning flight, be sure to book boarding for the day before and bring your dog during our normal drop-off time, Monday through Friday. We aren't able to accept boarding drop-offs on Saturday or Sunday.
After your dog's last night of boarding, if you aren't able to pick up your dog by 9 a.m. the next morning (Monday through Friday) we'll add a charge for a full day of daycare and you can pick up your dog between 2:30 and 5:30 p.m. There's no pick-up on Saturday. On Sunday, pick-up is from 3:00 to 4:00 p.m. only.
If you need to make special arrangements for boarding drop-off or pick-up, please let us know ahead of time so we can try to work out a different plan with you.
Now hiring
K9 Country Club has an opening for a kennel helper/dog handler. This position will start out part-time and could become full-time for the right person.
The ideal candidate will have these qualities: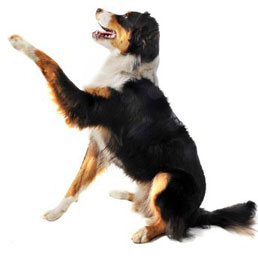 Dependable
Punctual
Detail oriented
Great work ethic
Attentive
Able to take direction
Willing to learn dog behavior
Friendly personality
Responsibilities of this position range from cleaning all areas of the facility to handling and supervising dogs (and everything in between). Candidates must be available for shifts including weekends and holidays. In return, the right person will have a fun, rewarding, family-type position with lots of wags and licks!
Previous experience with dogs is preferred but not required. We will train the right person.
If you know someone who would like to join the K9 Crew, please tell him or her to apply in person at K9 Country Club Monday through Friday from 9:00-11:30 a.m. or 2:30-5:00 p.m. Applicants should bring a resume with references and must be willing to complete a background and drug check.