December 4, 2015
Santa Claus is coming to K9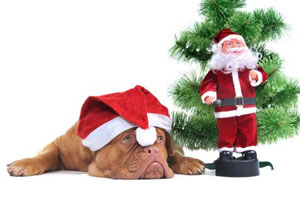 Bring your dog and your Christmas spirit to K9 Country Club on Saturday, December 19 for a special treat... pictures with Santa! And because giving feels good, we're donating all the proceeds to our local Wags to Riches Animal Rescue and Sanctuary.
Photos will be posted to the K9 Country Club Facebook page, and the one with the most "Likes" will win a holiday stocking chock full of dog treats and toys... in time to be hung by the chimney with care. (If you're not on Facebook, we'll gladly email your dog's photo to you.) We'll also have holiday goodies for you and your dog and plenty of holiday cheer. All for a $10 donation... or you can give more if you'd like to!
Come join the fun from 10 a.m. to 12 p.m. on Saturday, December 19. We will have a paws-itively wonderful time!
Plan ahead for holiday hours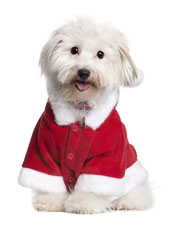 Please plan ahead for our Christmas and New Year's Day closures:
Thursday, December 24
No daycare
Boarding drop-off from 8:00 to 10:00 a.m. Closing at 12:00 p.m.
Friday, December 25
Closed
Thursday, December 31
Daycare open regular hours
Boarding drop-off from 8:00 to 10:00 a.m.
Friday, January 1
Closed
Merry Christmas and Happy New Year!