July 14, 2014
For your dog's safety... Please close the gate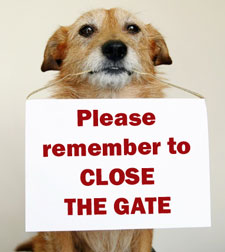 We want to remind all our clients of the importance of closing every gate you go through at K9 Country Club.
Even if someone is waiting in the parking lot or in the space between the building door and the gate, and even if the gate was open when you got to it, please close the gate behind you every time.
It would only take a few seconds for a dog to get through the door, out the gate and into traffic on Terrace Heights Drive. Please help us prevent this potential tragedy by simply closing the gate each time.
We open at 7:30 a.m.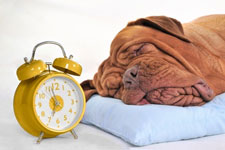 Another reminder that daycare dogs can be dropped off from 7:30 to 9:00 a.m. — no sooner and no later.
Even if the big gate to the parking lot is open before 7:30 a.m., we're not open. If the gate is open before 7:30 a.m., it's because it's windy (we have to leave the gate open when it's windy) or because the trash truck needs access to the Dumpster.
Please don't drop off your dog(s) before 7:30 a.m. Thank you!
Two is company, three's a crowd
When you drop off or pick up your dog in the daycare building, please remember that only one owner/dog pair is allowed inside the building entrance at once. If someone is already in the space when you arrive, please wait outside the door or in the parking lot until he or she leaves the building. The space is too small to safely accommodate more than one owner and dog at a time.
Discounted baths offered for boarders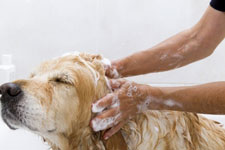 In an effort to avoid increasing our prices, we are discontinuing the free bath we've always given when your dog stays with us for a week or more. Instead, we are now offering a discounted bath for dogs staying with us for seven or more nights.
When your dog stays seven or more nights with us, exit baths for little dogs are now $15 (normally $25); medium dogs are now $20 (normally $35); and big dogs are now $25 (normally $45 - $50). If your dog stays with us fewer than seven nights, we offer an exit bath at the regular price.
Please let us know when you schedule your boarding whether you would like to also schedule a bath.
Plan ahead, avoid extra charges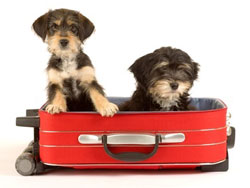 We know you can't always plan ahead and sometimes find yourself in need of dog boarding on short notice. We love all of our clients' dogs and we try to accommodate last-minute requests whenever possible. However, if it's a weekend during peak travel seasons (such as summer, school breaks and holidays), we're probably already booked full.
If we are able to make special arrangements for your dog to stay with us when we are already full, such as arranging for extra staff to ensure all dogs receive our standard high-quality care, you may be charged an extra $100 fee for the weekend. To avoid extra charges... plan ahead!
No boarding October 3 - 10
If you are making travel plans in October and need boarding, please note we will not schedule any boarding from October 3 to 10. Laurie is planning ahead for a much-needed break and a chance to get out of town. Doggie Daycare will remain open during that time.
Please update your contact information
It's time to make sure we have up-to-date contact information on file for all of our dogs and their owners. Regular daycare clients will soon find a new boarding agreement in their cubbies, and those who board with us will need to fill out a new boarding agreement the next time they're in.
We appreciate your cooperation in helping us to ensure we have your current contact information.
No Flexi leashes, please

Flexi (retractable) leashes can give your dog some extra freedom in wide open spaces, but they are dangerous inside our buildings. With that extra length of cord dogs can easily get hog-tied or tangled up with furniture, other dogs and people. And if you've ever tried to grab the cord as it's being pulled out to it's maximum length, you know it hurts a lot!
Please bring your dog to K9 Country Club on a standard 4- to 6-foot leather or nylon leash. Thank you.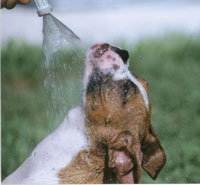 Too hot for hot dogs
We think everybody would appreciate cooler weather, so we're postponing our annual Customer Appreciation Barbecue until the fall this year. Watch for details to come.
Wagmore Park update
So far the focus this summer has been on getting the house ready for painting and a new roof. The fence is the next big step in the process, but we received some bad news that has stalled our progress. The fencing contractor we selected has gone out of business, and the next lowest bid is $5,000 higher than what we'd planned on. We will continue to look for ways to raise the money we need to turn our dog park dream into a reality.
No yard sale this summer
We appreciate everyone who has offered to save and bring in their treasures for our annual yard sale, but we're skipping it this summer. We'll plan to hold another fundraiser yard sale next spring.
Yellow Shirt Day at K9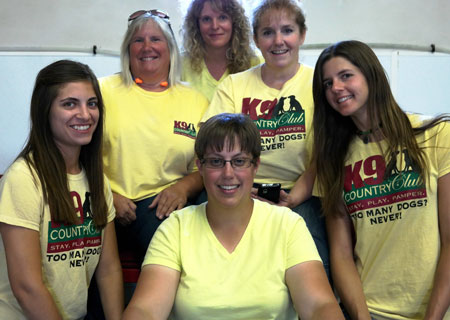 The K9 Crew was looking good in sunny yellow on Friday.

Pictured from the top, left to right: Top: Carrie. Middle: Laurie, Nancy. Bottom: Melissa, Jenny and Rachel.
We are losing Rachel at the end of the month, as she is moving to the west side to continue her education to become a wildlife biologist. We will miss her!
We now have three new additions to our team:
Carrie works with the little dogs and keeps our boarding building in tip-top shape with excellent maid service and making the dog suites ready for boarding. She has three dogs and two cats at home.
Jenny, a licensed veterinary technician has worked in small animal practice for 12 years. She has three dogs and four cats. She is in training to work with our "big dog" daycare groups.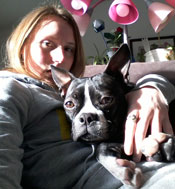 Candyce is a second-year veterinary technician student and is working weekends and some afternoons at K9. She has two dogs, two cats and three chickens back home in Chewelah.
Candyce and Bailey