February 21, 2014
Hello!
A few reminders ...
• Daycare dogs should be dropped off by 9 a.m.
• If you're lucky enough not to have to be at work by 8 a.m. each morning, please drop off your dog between 8 and 9 a.m. That leaves the time around 7:30 a.m. for the people who have to be at work by 8 a.m.
• Half-day pick-ups should arrive between 11:45 a.m. and noon. Arriving any earlier or later is disruptive as we're transitioning the dogs from play to nap time.
• Drop-off is the time to pay for boarding. It's usually too hectic to pay when your dog is so excited to see you at pick-up time.
And a few announcements...
• Beginning March 1, our Buy-Ten-Get-One-Free Daycare Package will expire six months after purchase. This means your dog will need to come at least twice per month to qualify for the deal.
• If your dog doesn't come for daycare at least twice per month, we won't keep you on the "regular" list. If you're not a regular, you'll need to call to make sure there's a spot available for your dog when you want to come.
• To be considered one of our "daycare dogs," your dog needs to come at least once per month.
• If your dog is a regular daycare attendee, please call us at least 24 hours in advance to let us know when your dog is not coming for daycare. No-shows without a phone call will be charged full price for the missed day. (Exceptions will be made for personal emergencies and weather-related incidents.)
• The deposit for boarding has gone up to $75. If you have a valid charge card on file with us, we will waive the deposit as long as you understand that if you cancel inside the seven-day time period we WILL charge your card.
Introducing... Millie!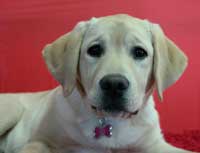 Millie is a five-month-old yellow lab who has joined the resident K9 crew.

Jen will be retiring from her position as "dog evaluator" and Millie will be taking over that job. Millie began her internship 12 weeks ago and is quickly learning all the trade secrets of how to be polite and engaging with new dogs who come to the K9.

Millie is as smart as she is cute and she's doing very well in her endeavor.





Millie and Jen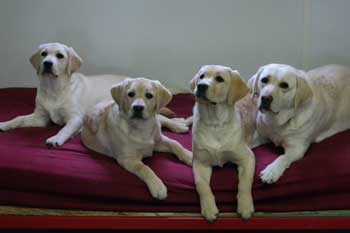 Millie (second from left) and family. Millie's mom, Maya, is on the far right
An official introduction to Rachel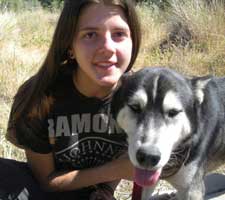 Rachel is our big dog daycare attendant and she helps with boarding dogs. She shares her home with a Siberian Husky named Alo. When she's not working at the K9, Rachel is at school studying to become a wildlife biologist.
Farewell to two great dogs... Mike and Marty
Mike and Marty's story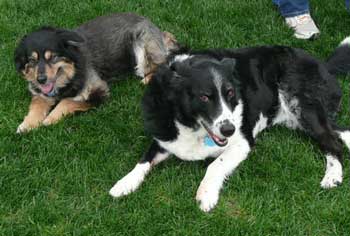 Many of you have seen two of the K9 mascots known as Mike and Marty. Many of you also knew their former owners, Coach Wayne and Biz Purdom of Selah. Mike and Marty started coming to K9 when we first opened and continued to board here until they tragically lost both of their parents to cancer about five years ago. Mike and Marty stayed here while we tried to find a home to take both of them together. They had been together their entire lives, so separating them was out of the question. Being "senior" dogs and needing to have a home together made their opportunity difficult. A few prospects showed interest but I would ask myself this question: "Would Biz approve of these people?" The answer was always... "NOPE!" So, in the end, I decided to have them live their days out here with my personal clan and their other friends. After all, it's a pretty good life here at the K9.
Mike and Marty aged well here and have always been involved in the "daily doings" of life at a daycare. Last fall, Marty was diagnosed with several ailments, the worst being cancer. Although surgery was not a good option for her, she did respond to an oral chemotherapy drug and proved to be a tough little girl. Mike has had his own troubles, the worst being his failing hindquarters. We (Nancy, Melissa, Rachel, and I) would just follow him around and "get him back up" if he got down on a slippery floor and couldn't get up on his own. They both continued to go over to the kennel to check out "the incoming gang" each day as part of their routine.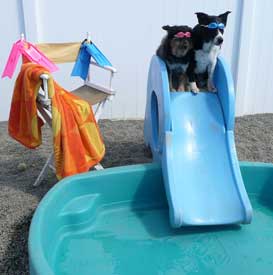 I had pondered for some time what I would do if one of them went downhill faster than the other. How would the one left behind respond? They have never been separated. Many pet owners have this reality to face when living with more than one dog. It is an excruciating thought. Recently it has been a day-by-day process, with me asking myself each day if they still had some quality in their lives... and each day the answer was yes. They would coax each other to eat, get up, go over to the office and make it through the day. This past weekend they told me otherwise and I decided to let them go, together.
They will be sorely missed here at my house and at the K9. Life is not the same without my "goofy Mike" and my "spunky girl Marty." Jen, Boy, Millie and I are all mourning their loss but are focusing on them being back together with their first parents, Wayne and Biz. Goodbye, my friends.
A few words about adopting littermates
Although they spent their whole lives together, Mike and Marty weren't littermates and they never experienced any of the difficulties known as "littermate syndrome." Not every pair of sibliings will experience littermate syndrome, but dogs adopted from the same litter have a high risk of over-bonding with each other and failing to develop a healthy relationship with people and other dogs.
If you or someone you know is considering adopting two puppies from the same litter, it's important to know the challenges that lie ahead and to be willing to put in the extra time to properly train, socialize and bond with each puppy seperately.
For more information about littermate syndrome, click the link below to read an article by Jeff Stallings, Certified Professional Dog Trainer and Behavior Consultant.
http://blog.betternaturedogtraining.com/2013/07/18/littermate-syndrome/
Your Dog... an Olympic Champion!
Olympic Games leads to creation of the Daycare Games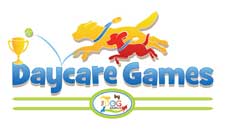 While the world turns its attention to the 2014 Winter Olympics, dog daycare businesses that are part of The Dog Gurus, an online community dedicated to keeping dogs safe, are competing for medals in the first annual Daycare Games. K9 Country Club is going for the GOLD!!
"It's like the Olympics... but it's the dog handlers and pet care businesses who will compete for medals," states, Robin Bennett, co-founder of The Dog Gurus. By focusing on the most important skills: getting dogs to sit, having dogs come, and teaching dogs to wait at the gate, well-run daycares provide a controlled environment where dogs get exercise without stress or injury. "It's amazing to see over 20 dogs sitting politely at an open gate" stated Bennett. And this is accomplished without fear or intimidation!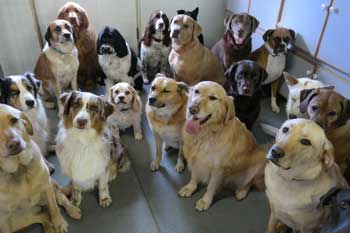 The Big Dogs performed a beautiful group sit on Monday
at K9 Country Club
Bennett, along with Susan Briggs, co-founder of The Dog Gurus, designed the Daycare Games to be a skills-based challenge that keeps dogs safe and recognizes top dog daycare providers for their unique skills.
"The dogs love to play these games and we wanted to recognize the facilities taking the best care of pets by having a friendly competition during the Olympics," explained Briggs.
There are 31 daycare centers and more than 190 handlers in the United States competing in the Daycare Olympics.
In the "Recall" event last week, here's how K9 scored:
• Laurie, advanced handler: Gold Medal - 17 dogs, 100% came
• Melissa, advanced handler: Gold medal - 7 dogs, 100% came
• Nancy, intermediate handler: Gold medal - 5 dogs, 100% came
• Rachel, intermediate handler: Bronze medal - 15 dogs, 87% (13) came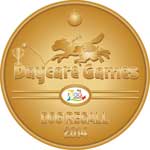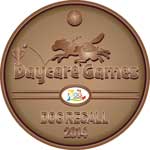 To read more about the Dog Gurus and the Daycare Games, visit http://www.safeoffleashdogplay.com/community/