August 5, 2013
Thanks to all the people and dogs who braved the heat to join us at our annual Customer Appreciation Barbecue on July 21st. We had great food and great fun for the dogs, even if we didn't have great weather. We're thinking about having a breakfast feast earlier in the day next year!
Special thanks to the K9 Crew for all their hard work before, during and after the event. Nancy and her family (husband Scott and sons Michael and Nathan), Melissa and Rachel each gave up their day off to help with the barbecue. We couldn't have done it without you! Thank you!!
I also want to give special thanks to...
Randy and Michelle Juette for the barbecue, food preparation, superb chef duties (Randy), helping with the dogs (Michelle), two awesome cakes, and tear-down after the event.

My friends, Linda Warnstadt, Kelley Denome, Deb Robinson, and Denise Moore for helping with the function.

Jonelle Foutz for spearheading the auction, and her ongoing e-newsletters to all of you.

Eric Tesch and Holly Krahn for staying to help tear down.

Dan from Bergen Screen Print for rushing our T-shirt order once again.
A GREAT BIG THANK YOU for the donations made in support of Wagmore Park and our silent auction.
That list includes:

Kathi Bonlender
Lorin & Carol Cyr
Janelle Crystal-Giver
Andy & Kelley Denome Nancy Fluegge
Jonelle Foutz
Fern Hart
Pam Henderson
Jennifer Hull
Tony & Elaine Krump
Angela Menashe
Kathi Mercy
Frank & Sondra Mitchell
Don & Ann Orminski
Janie Plath
Andy & Cathy Robinson
Ken & Sharon Smith
Sheila Strom
Pat Temple
Chuck & Vicki Wilson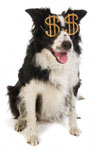 And finally, thank you to everyone who bid on an auction item or purchased a T-shirt.
Note: We have more T-shirts for sale. They make great gifts for your dog-loving friends and family. Come and get 'em!
All together we raised $4,075 toward the dog park. Thank you!
Laurie
Here's a link to the 2013 K9 BBQ slideshow
This summer,
leave your dog at home... not in the car
On any sunny day, the temperature inside your parked car can quickly reach oven-hot temperatures, causing your dog extreme discomfort, disability or even death in a matter of minutes.
Because dogs don't sweat, they cannot tolerate heat as well as humans can. When it's just 85 degrees outside, the temperature inside your car can rise to 120 degrees or more in less than 30 minutes. Leaving the windows open isn't enough to prevent the temperature from rising to dangerous levels.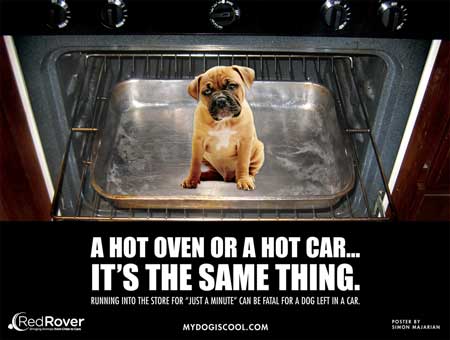 The next time you're going to stop at the store or do other errands, leave your dog at home, not in the car.
Learn more at www.mydogiscool.org
Wagmore Park Fundraiser Yard Sale - Saturday, August 17
You are welcome to bring yard sale donations any time now through August 15th. We'll take household goods, knick-knacks and other treasures, but please... no clothes or books.
If you would like to help with the yard sale, either with set-up on Friday or at the sale on Saturday, we will have sign-up sheets in the office and big dog daycare building. We will use all day Friday to set up this year (rather than working until midnight the night before) and will need help from 7 a.m. to about 3 p.m. on Saturday.
Tell your friends to come and support Wagmore Park. Thanks!
Big Dog Daycare closures
So we can have the room available to set up for the yard sale, we will not have Big Dog daycare on Friday, August 16.
Also, please plan for big dog daycare to be closed Monday, September 16 through Friday, September 20 while Laurie is on vacation. If we end up having ample staff, we may be able to open daycare for the big dogs that week. If so, we will let our regulars know.