January 11, 2013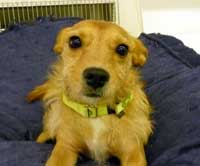 Looking for love?
Look at Auggie!
Auggie is a happy little dog who needs a loving home. This 17-lb. terrier mix is about a year old, is neutered, and is up to date on his vaccinations. He's also crate trained.
Auggie is very social and likes to be with his people. He'd be a great companion dog. He is a regular at K9 Country Club and is good with other dogs and has been OK around cats, too.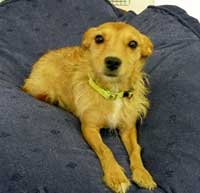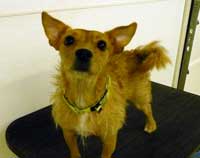 If you'd like to meet Auggie, give Laurie a call... 453-9663.
We're feeling the love, too!
Wow! We collected 60 letters to bring to our meeting with Rep. Charles Ross on Wednesday. Thank you!
The meeting went very well. Special thanks to Mardi Hackett, Michelle Juette, Kathi and Steve Mercy, Jonelle Foutz and Nancy Townsend for also attending the meeting.
While we wait to hear back from Rep. Ross we will continue to collect letters. Our next step will be to request a meeting with the Yakima County Commissioners.
Meals on Wheels collection continues
Through the end of January, we will continue to collect pet food donations for the Meals on Wheels program that delivers food to local seniors and, with our help, food for their special companions. Your contributions are very much appreciated!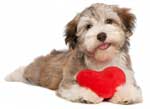 More love on the way
It's time for Valentine's Day pictures at K9 Country Club. We'll start taking pictures next week.