May 4, 2012
Reminder...
K9 Country Club closures coming up quickly
It's time for Laurie to have some time away. K9 Country Club will be closed Thursday, May 10 through Tuesday, May 15.
No doggie daycare on May 10, 11, 14 and 15 (Thursday, Friday, Monday and Tuesday).
No boarding on May 12, 13, 14 and 15 (Saturday, Sunday, Monday and Tuesday).
Thank you for your cooperation with this schedule change.
New at K9...
We now have a digital scale you can use to weigh your dog. Come give it a try in the front office.


Be sure to check out our new white boards with all your dog's information on them. We hope this helps make it easier to track due dates for your dog's immunizations, fecal tests and flea and tick treatments.


We have a gigantic new play structure and the dogs are loving it! With the pools open and warmer weather, we're ready for summer-time fun.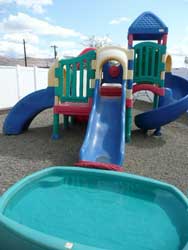 Our new play structure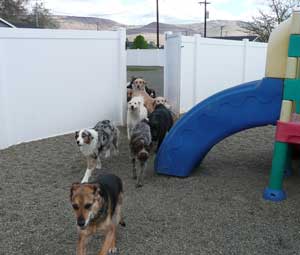 Runnin' for the pool!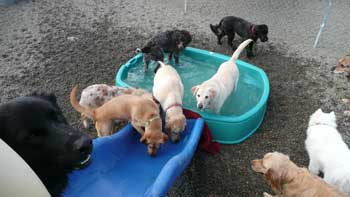 Playin' in the pool!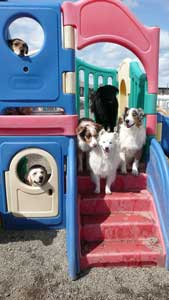 Posing for the camera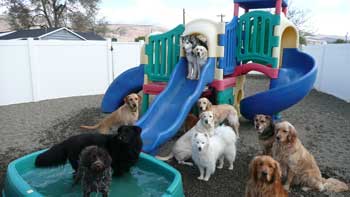 Enjoying the new toy
Another contest, another winner...
Congratulations to Milo and Acey -- winners of our second Basic Obedience Contest -- "Come when called."
In the Big Dog room, there were several dogs who did very well, but Milo ALWAYS comes when he's called. Even when he is distracted in play!
This is Acey's second win. Working with your dog at home really pays off. Donna is now working with Acey on clicker training.
Milo and Acey each won a free day of doggie daycare.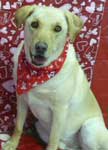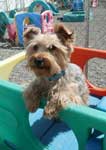 Milo (left) and Acey.
Basic Obedience Contest -- Part 3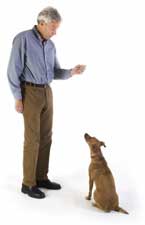 Our next contest will test dogs on being able to sit and stay.

Here's how you can practice at home:

Make your dog sit


Say "Stay"


Options:

Wait a little bit and then say "OK" to release your dog


Walk away, wait a little bit and then say "Come" to release your dog
See how long your dog can hold a sit/stay without moving. Treats and praise are great rewards.
The Sit/Stay contest will begin May 21 and will run for four weeks.
Introducing Melissa...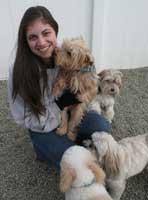 Although many of you already know her, we want to officially introduce Melissa. She manages the little dog room and cares for dogs who are boarding with us. Melissa is a licensed veterinary technician and graduated from the Yakima Valley Community College Veterinary Technician Program in 2009. She is married and has a nine-month-old son. When she's not at K9 Country Club, Melissa enjoys spending time with her family.
For those who knew Wayne Purdom...
New book tells Coach Wayne Purdom's story
After his untimely passing from cancer, Wayne Purdom's beloved dogs, Mike and Marty, found a permanent home at K9 Country Club. Wayne's sister-in-law, Jean Pinski, wrote a book about Coach Purdom and his family. If you are interested in reading this touching story, click here to visit Jean's website and purchase the book from there.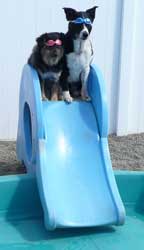 Mike and Marty looking cool at the pool