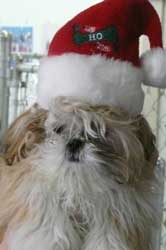 Wow! It's the end of the year already! Anyone else surprised by that? One thing you won't want to be surprised about is safety this holiday season. In this issue we have information about common hazards for your pets at this time of year and links to information that can keep your pet safe all year long. We're also asking for your help with naming our little "boy" -- the dog without a name.
I want to thank you for your business this year, and, along with all the K9 Country Club staff, wish you and your dog a very Merry Christmas!
Laurie
December 2008
Reminders...
Doggie Daycare will be closed the following dates:

Monday, December 22 through Friday, December 26
Thursday, January 1 and Friday, January 2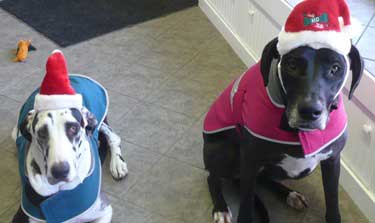 Keep Your Pets Safe
With the excitement of the holidays come extra hazards for our four-footed friends. Out-of-town visitors may bring interesting bottles of pills or other toxic items in their luggage, and the kitchen trash can may be full of turkey or ham bones too tempting for a dog to resist. You can have a happy and healthy holiday by remembering these safety tips from the ASPCA (American Society for the Prevention of Cruelty to Animals):
Holiday Hazards
Christmas tree water (may contain fertilizers and bacteria)
Electrical cords
Ribbons or tinsel (can become lodged in the intestines and cause intestinal obstruction...most often occurs with kittens!)
Batteries
Glass ornaments



Cold Weather Hazards

Antifreeze
Liquid potpourri
Ice melting products
Rat and mouse bait



Foods to Avoid Feeding Your Pet

Alcoholic beverages
Avocado
Chocolate (all forms)
Coffee (all forms)
Fatty foods
Macadamia nuts
Moldy or spoiled foods
Onions, onion powder
Raisins and grapes
Salt
Yeast dough
Garlic
Products sweetened with xylitol
To keep your pets safe all year long, visit these links at the ASPCA Website about poisonous plants and other common hazards for dogs and cats.
All I want for Christmas is... a name!
This little dog needs a name. "Boy" was hit by a car but is recovering nicely now. Use the link below to submit your idea for a name. If we use your suggestion, you'll win a tub of Otis Spunkmeyer cookie dough!
Happy Holidays!