Goodbye, Nancy!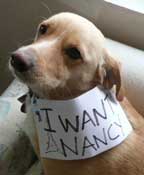 We're sad to say that Nancy, our receptionist extraordinaire, is leaving K9 Country Club.
"It's hard to say goodbye to everybody," said Nancy. "I have really loved my job here with the dogs... and the people."
If you want to say goodbye to Nancy (or beg her to stay), do so before October 15th-- that's her last day.

Traveling for the holidays?
Boarding for the Thanksgiving weekend is completely booked, and Christmas has only a few spots open. If you need boarding over the Christmas holiday, call right away!

K9 Closures
Please make note of the following closures at K9 Country Club:

Thu., Oct. 21 - Sun., Oct. 24 - No boarding and no Doggie Daycare
Wed., Nov. 24 - No Doggie Daycare
Thu. Nov. 25 - Sat., Nov. 27 - No Doggie Daycare, no boarding pick-ups. Note: Drop-offs for boarding over the Thanksgiving weekend will be on Wed., Nov. 24 only.
Thu., Dec. 23 - Fri., Dec. 24 - No Doggie Daycare
Sat., Dec. 25 - Closed (no boarding pick-ups)
Fri., Dec. 31 - Half-day Doggie Daycare (morning only, pick-up by noon). Note: We will take a poll to see who would come for Day Care on Dec. 31

A note to our Doggie Daycare clients
Isn't it great to hang out with friends and have a good time? Your dog thinks so, too. When your dog comes to Doggie Daycare regularly, he or she makes friends and knows they're going to have fun together.
But what about hanging out with strangers? That's not as fun for people or for dogs. It can be stressful (and sometimes scary) without a friend around.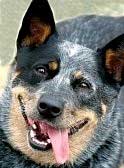 When we schedule your dog for Doggie Daycare, we make sure he or she gets to hang out with a group of friends. We try to keep a good balance of dogs who get along well together and have similar interests and play styles.
If you want to change your dog's regularly scheduled day, please call ahead of time to make sure we have space and, most importantly, that the regular group of dogs that day will be a good match for your dog. Remember... it's supposed to be fun!

New Services
We now offer a variety of new pampering services for our clients: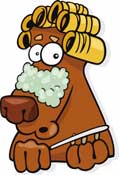 Nail Trim

With Dremel (rotary) tool: $7
With regular clippers: $5
Spa Package
For our Doggie Daycare clients, we now offer a special beauty treatment that includes a bath, nail trim, ear cleaning and expressing anal glands (if necessary)
Small dogs: $25
Large dogs: $35
Giant or extra-furry dogs: $45
The Spa Package is available on your regular Day Care day and can be scheduled ahead of time, or just ask if we have a spot open when you drop off your dog. (We will only schedule two Spa Packages per day.) Dogs enjoying the Spa Package will be ready for pick-up by 5 p.m.
And for our boarding clients, dogs who stay seven nights automatically receive a Spa Package before going home. If your dog stays fewer than seven nights, let us know if you would like to purchase an extra pampering treatment.

Prevent antifreeze poisoning
If you use antifreeze around your home this fall and winter, but sure to keep your pets safe by preventing antifreeze poisoning.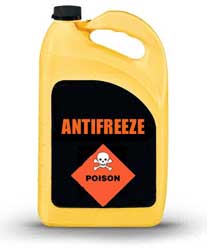 Dogs and cats find antifreeze very tasty… and if they find it they will drink it. Antifreeze poisoning happens most often when a pet finds a small puddle of antifreeze that has leaked from a car's cooling system or when an open container of antifreeze is left out.
Unfortunately, drinking antifreeze leads to kidney failure and death within a few days. As little as three tablespoons-full of antifreeze can kill a medium-size dog. A cat can ingest a fatal amount of antifreeze after walking through a puddle and licking its paws.
If your pet ingests antifreeze, seek veterinary care immediately.
Here are some tips for preventing antifreeze poisoning, from the WSU College of Veterinary Medicine Website:

Keep new and used antifreeze in a sealed, leak-proof container.
Don't pour used antifreeze on the ground - take it to a service station for disposal.
Check driveways for puddles of antifreeze that may have leaked from a car.
If antifreeze is placed in toilets, make sure the lid is down and the door to the room is closed.
Consider using alternative antifreeze products which are less toxic to pets.

Is your dog stressed?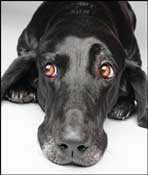 A new baby. A new home. A new pet in the family. These are all exciting events, but they can be stressful too - for people and for pets.
Changes in a dog's environment can lead to changes in his or her personality. If your dog is experiencing any changes at home, please let us know so we can watch for any problems that may develop while he or she is in day care or boarding with us.
How to tell if your dog is feeling stressed
Signs of stress may include one or more of the following:

Shaking
Scratching
Whining
Yawning
Hiding
Disobeying orders
Lip licking and drooling
Sneezing
Avoiding eye contact or acting shy
Keeping tail between the legs
Aggression - such as biting, growling, or snarling
Lack of bowel or bladder control
Loss of appetite or overeating
Other unusual behaviors

Parasite patrol
Veterinarians recommend having your dog's stool checked annually to screen for any parasites that may be present in your dog's intestines. Parasites can cause problems even if the dog isn't showing any symptoms.
We know of one case of Giardia and one case of whipworm in local dogs recently.

BBQ Thank-You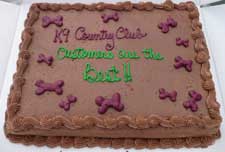 Thank you to everyone who came to our first Customer Appreciation BBQ in August. Eighty people and 40 dogs gathered to enjoy good food and good times at K9 Country Club. We had so much fun, we're going to do it again next year! Look for our suggestion box in the Day Care area if you have ideas to share.
Click here to watch a slide show!

K9 shirts available
Be one of the best dressed dog owners in Yakima by wearing your custom K9 Country Club T-shirt or sweatshirt! Stop by the office before October 15 to pick your color and size. T-shirts are $20 each; sweatshirts are $42 each.