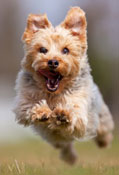 We have tail-waggin' good news! The deadline passed and the neighbor did not file another appeal of the dog park proposal. I am going ahead with my plan to purchase the property and begin cleaning it up. This will be the first phase of the project, and I'm hoping I can complete it before the snow starts falling this year. Additional work will progress in the spring.
Remember... this is a three-year plan and it won't happen overnight. But it will happen!
Thanks, again, for all of your support.
Laurie
No cough at K9
A huge thank you for helping us not contract the canine cough that was going around the Yakima Valley. Although any pet facility where dogs gather is subject to these types of illnesses, I believe the main reason we kept this particular bug out of K9 is because we were proactive in trying to prevent it... and YOU played a HUGE part in that by cooperating with our instructions and keeping your dogs away from public areas when we asked you to. THANK YOU! We really appreciate it.
Any viral or bacterial infection in a dog facility can be difficult to get rid of and we thank you for helping us keep it out of the K9. We think it is safe to go back to your normal dog activities at this time. But remember: If your dog EVER has a cough of any kind, please check with us before bringing your dog to K9 Country Club.
Parasite patrol
We have received reports of more and more dogs in our valley testing positive for internal parasites such as coccidia, giardia, and roundworms upon routine fecal exams. Just as viral and bacterial infections are a concern for any dog facility, so are parasite infections. We do not want these "creatures" at our facility, either.
Any new dog coming to our facility will now be required to have a negative fecal exam that checks for the common parasites in our area, plus a separate giardia test. (Giardia is a type of intestinal protozoa commonly found in untreated water.) We will require our daycare dogs to have these tests done yearly. Do not panic. You do not have to rush out tomorrow and get your dog tested. We would appreciate it if you would have these tests performed with your dog's next set of vaccinations. Simply take a stool sample with you to your vaccine appointment and ask for a fecal exam AND a giardia test.
We have also been going through our records and see that we have old documentation on MANY dogs' Bordetella vaccinations. PLEASE check with your veterinarian and get your dog vaccinated if it has been more than six months since the last Bordetella vaccine. A Bordetella vaccination twice a year has also helped us keep the "cough" out of our facility.
If you know your dog's records are old, please bring in a copy of your latest vaccination record and fecal exam. Most clinics will fax us a copy if you ask them to. We appreciate your cooperation, as our main goal is having healthy, happy dogs in our care.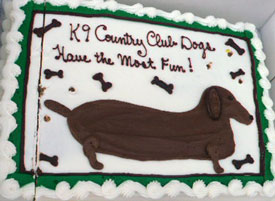 Fun in the sun
We had a great time at our Customer Appreciation Barbecue on August 27th. Thanks to everybody who made it so much fun. We appreciate you!
Click here to watch a slide show from the barbecue