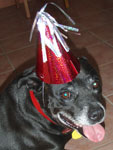 Party on!
The second annual K9 Country Club Customer Appreciation Barbecue is on! (See below for our thanks in keeping canine cough out of our facility so far...)
We're set for this Saturday, August 27th
from 2 to 5 p.m.
Reminders:
Let us know you're planning to come (so we have enough food). Sign up in the office or daycare building, or call us at 453-9663.


If you ordered a T-shirt, you can pick it up in the office before the party or on Saturday at the party.


If you would like to sit down at the party, bring a lawn chair.


Parking will be available in the Evans parking lot (right next to K9 Country Club). If you need to drop off chairs and stuff, you can pull into the K9 lot then move your car to the Evans lot.
Dog park on!
Great news... the examiner ruled in our favor after the dog park hearing on August 4th. The appellants have until August 31st to file a second appeal... but we're hoping they won't! Many thanks, again, to everybody who has shown support for the dog park plan.
No canine cough at K9
So far so good... we haven't seen any sign of canine cough at K9 Country Club. Thank you for your cooperation in keeping your dogs away from public dog area -- and please continue to do so until we let you know otherwise.
Thank you,
Laurie