A big Thank You to everybody who wrote letters of support, attended the dog park appeal, or spoke on my behalf on Thursday. Having so many of you there really helped me a lot, and I think it helped the dog park plan, too. The examiner will present his decision within 10 days. I'll let you know what the ruling is.
For anybody interested in watching, the hearing will air on YPAC (Charter Cable channel 22) at 10:55 a.m. on Saturday (08/06/11) and Sunday (08/07/11). Note: I will definitely NOT be watching!
Again, thank you for all your support. I really want this dog park to happen because I believe it's needed and, as we heard on Thursday, it's wanted!
Thanks!!
Laurie
It's hot... and cool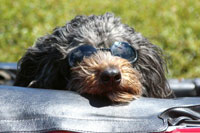 What's hot and cool at the same time? Celebrating the dog days of summer at K9 Country Club's second annual Customer Appreciation Barbecue! It's scheduled for Saturday, August 27 from 2 to 5 p.m. Please let us know you're planning to come by signing up on the RSVP sheet in the office or in the daycare building, or by calling 453-9663.
We'll have a special edition T-shirt printed for the barbecue. Anyone who's interested can see the design and place an order at K9 Country Club by Friday, August 12.