We (both the dogs and the people) are having a ball with our new pool in the Doggy Daycare yard. Hope you're staying cool and enjoying your summer, too.
Laurie
July 2009
Our Doggy Daycare clients earn high praise
If you are a Doggy Daycare client here, you know about the letter we recently sent out asking for help in ensuring the safety of the dogs here (and the sanity of our staff) by following some simple steps when dropping off and picking up your dogs. Your response has been great! We really appreciate your cooperation. Thanks!
Too Much Stuff
Have you ever over-packed for a trip? Maybe when you were a kid you didn't think you could survive without this or that toy, doll, book or game - only to find that when you finally got to where you were going, they had waaaay more cool stuff to play with and so you never even touched all the things you brought from home? It's like that for dogs, too.
Unlike the airlines, we're not going to charge you for an extra bag, but if your dog doesn't absolutely need to bring something from home, please leave it at home.
We have every kind of dog bed, blanket and pillow imaginable. We have food and water bowls specially designed for our kennels. We have plenty of toys. What we don't have is room for a lot of extra stuff.
Three things are essential for boarding at K9 Country Club:

Your dog
Your dog's leash
Your dog's food
That's it, really. For young dogs who are still teething (and chewing a lot), it's a good idea to bring a Busy Bone or Kong for them. Otherwise, your dog is going to be so busy playing with us and the other dogs here, they're not going to miss all their toys from home. Of course, if an item from home really is essential for your dog's health and happiness, we absolutely want you bring that along with them. Please be sure to mark your dog's name on all the items you bring. Thanks
Wags to Riches BBQ and Brew
Here's your chance to eat, drink and be merry for a good cause. We're selling tickets for the Wags to Riches 1st Annual BBQ and Brew to be held Saturday, August 22, from 6 - 10 p.m. at the Selah Civic Center.
Tickets are $20 per person (must be 21 or older to attend) and all proceeds will benefit Wags to Riches Animal Rescue and Sanctuary.
You'll enjoy chowing down the delicious food provided by Miz Dee's Barbeque Works and have a howling good time with Karaoke (with a twist, they say), a silent auction and a raffle.
Run solely by volunteers, Wags to Riches Animal Rescue and Sanctuary provides a safe, caring refuge for homeless animals in Central Washington. To learn more about Wags to Riches, visit their Website at www.wagstorichesanimalrescue.org.
Meet Mike and Marty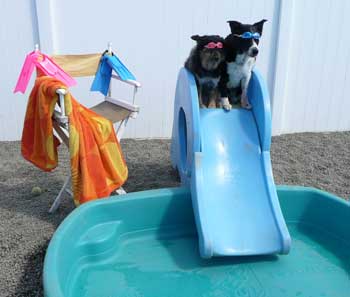 Mike and Marty are looking for a new home. The pair recently became homeless when their owners died of cancer - just three weeks apart. Mike (a male) and Marty (a female) are both mixed breeds, about seven years old, and have been together their whole lives. They are healthy, well mannered dogs who would be ideal for a retired couple or someone who has lots of time to spend with them (because that's what they're used to). If you can offer Mike and Marty a new loving home, please contact Laurie at K9 Country Club - 453-WOOF.
Mike (right) and Marty need a new home...
Book now for the Holidays
It's not easy to think about Christmas while the scorching summer sun is out there, but believe it or not, we're already filling up for the holidays. If you need to board your dog in November or December, call as soon as possible to reserve your space. And if you haven't yet called to book boarding over Labor Day weekend... call now! We're almost full.
Closed October 10 - 18
K9 Country Club will be closed from Saturday, October 10 through Sunday, October 18. No boarding. No daycare.
Dog health reminders...
Be sure to keep your dog's vaccinations up to date. Dogs at K9 Country Club need a Bordetella shot every six months and flea protection monthly. Please bring your updated vaccination and flea protection information with you so that we can keep our records accurate.
Hot Dog!
Dogs are even more sensitive to the summer heat than we humans are. During hot weather, it's best to keep your dog indoors where it's cooler. If your dog must be outdoors when the weather is hot, it is essential that your dog has plenty of fresh, cool water to drink and a cool place to rest out of the direct sun. Limit your dog's physical activity during hot weather by walking in the cool hours of the morning - or skip the walk and find a pool you can share with your dog!