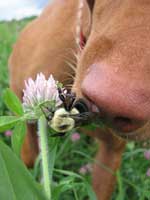 Spring is a great time to be a dog (really, is there any time that isn't?) Fresh air, new smells, and lots to explore! We're enjoying the nice spring weather with the dogs, and hope you are, too.
While we're all having fun, we also want to be safe. Doggy Daycare clients may be interested in a new safety collar we have available. Read on to learn more about collar safety.
Thanks,

Laurie
April 2010
Collar safety
Dog collars provide fashion, identification and safety, but do you know they can also be deadly? Collar strangulation accidents occur more often than most dog owners realize.
Most collar accidents occur when dogs are play biting at each other's necks -an activity very common in daycare and dog park settings. As they play, one dog's jaw can get caught in another dog's collar. As both dogs struggle to get loose, the collar often gets twisted and tightens - sometimes breaking one dog's jaw and, sadly, ending the other dog's life. This tragedy can occur in a matter of seconds, even with an attentive owner present. In this situation, a traditional dog collar can be impossible to unbuckle or cut loose in time to save the dog's life.
Although we discourage play biting among the dogs here, it's impossible to prevent the activity entirely. And while having no collar during play time may be the absolutely safest answer, that's not a practical solution when we need the ability to quickly and safely control or restrain the dogs in our care. All dogs at K9 Country Club are required to wear a collar at all times.
Because we are concerned about collar safety, we are now evaluating the Premier® PlaySafe™ Collar in our daycare building. The PlaySafe™ Collar is specially designed with two Velcro® safety releases that can be quickly removed in an emergency.
If you are interested in trying a PlaySafe™ Collar, we recommend you purchase one and keep it in your dog's cubby here. You can slip the collar on when you drop your dog off for the day, then remove it when you pick your dog up at the end of the day. (This means you won't forget it at home!) The PlaySafe™ Collar comes in blue, red and neon yellow and is available for our clients to purchase at our cost (about $6).
Let us know if you'd like to try one. We'll help you select the right size and show you how to use it.
Pools are open
You may not be ready to jump in the pool yet, but the dogs are! We've opened the pools for the water-loving pooches at K9 Country Club. If your dog likes to play in the water, be prepared with an extra towel or two when you pick him/her up. We close the pools at 3:30 p.m. to give the dogs time to dry off before going home, but sometimes they're still a bit wet at pick-up time. And remember this: If your dog is a little messier than when he/she came that morning, he/she had a lot of fun!
Reminder...
Daycare drop-off deadline is 9 a.m.
Ever felt awkward being the last one to arrive at a party? It's no fun for your dog, either, when he's late for doggy daycare. Dogs are pack animals and they form their groups early in the day. If your dog arrives long after the others, your dog won't be part of the pack.
Big dogs should arrive between 7:30 and 9 a.m. Little dogs should arrive between 8 and 9 a.m. If you arrive with your dog later than 9 a.m., we may have to send you both home.
If you need a copy of our Doggy Daycare information sheet, you can download it from our website (it's at the bottom of the page), or ask us for a copy the next time you're in the office.
Thank you for your cooperation.
Vaccination alert
Several cases of canine distemper have been reported in the Yakima area recently. Be sure your dog is current on all vaccinations.
Distemper is a viral infection that affects the respiratory, gastrointestinal and central nervous system. It is highly contagious and often fatal. It's spread through contact with other infected dogs or wild carnivores such as raccoons, skunks and foxes.
Young puppies between three and six months of age and older unvaccinated dogs are at the highest risk for infection.
Let's celebrate!
This month marks the beginning of K9 Country Club's fifth year! We're in a mood to celebrate with a Customer Appreciation Barbecue. Let us know if you're interested. We'll have a sign-up sheet in the daycare building.