It's spring! After all these months of cold weather, we're ready for some sunshine and can hardly wait to open the pools! (But we are going to wait a little while longer.) What I'm not going to wait for is vaccinating my five dogs against canine influenza. We are now requiring the vaccine for all dogs at K9 Country Club. You can read more about this highly contagious disease below.
Enjoy the season with your dog!

Laurie
March 2011
Spring cleaning... for your dog!
Give your dog a mini makeover and treat him or her to a Spa Day!!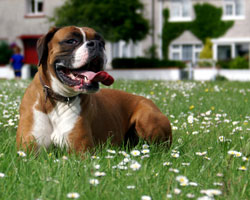 This includes:

Bath
Nail Trim
Ear cleaning
Empty anal glands
Prices:
Small = $25.00
Medium = $35.00
Large = $45.00
Extra Large = $50.00
Your dog will feel fresh as a daisy! (And will love you for it!)
Nail trim only also available:
Nail trim $5.00
Trim with dremel $7.00
Canine Influenza Virus confirmed in Washington state
The first case of Canine Influenza Virus (CIV) has been recorded in Washington state. In January of this year, a shelter dog in the Kitsap Humane Society in Silverdale, Washington, tested positive for CIV. Because this dog was originally transferred from a Tri-Cities shelter, and because shelter dogs are regularly transferred throughout the state, there is no way to know how many dogs were infected or where those dogs ended up. It is very likely the canine influenza virus will soon be confirmed in the Yakima Valley.
We first reported on the canine influenza virus in our December 2009 issue of The Scoop. At that time, the virus was confirmed in 30 states -- but not yet in Washington.
Canine influenza is a highly contagious viral infection that can cause mild to severe illness in dogs. All dogs, regardless of breed or age, are susceptible to infection and have no natural immunity to the disease. Virtually every dog exposed to canine influenza will become infected. Approximately 80 percent of those infected with the virus will develop mild to moderate symptoms (cough, runny nose and low fever) that go away within 10 - 21 days. Severe cases of canine influenza may develop into pneumonia and other potentially fatal conditions. Symptoms generally appear two to four days after exposure to the virus. Infected dogs are most contagious during this two- to four-day incubation period when they are not showing any signs of illness.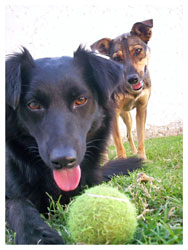 Dogs who spend time with other dogs -- at daycare, in boarding kennels, at the groomer's, in training classes, or playing at the park -- are at the greatest risk of contracting and spreading CIV. The virus spreads through direct contact with an infected dog or a contaminated surface (by licking, nuzzling, sharing toys, bowls, leashes, etc.); and through the air (from coughing or sneezing).
Although the vaccine does not prevent canine influenza, it does decrease the severity of the disease and help protect against the most severe symptoms that can lead to lung scaring and other serious respiratory damage. Vaccinated dogs that become infected generally develop less severe illnesses and are less likely to spread the virus to other dogs.
K9 Country Club now requires the CIV vaccination
for dogs coming to daycare and boarding with us.
Vaccination against CIV requires an initial vaccine, a booster two to four weeks later, and then a booster annually. The CIV vaccine does not replace the Bordetella vaccine, which is also required every six months. If it's time for your dog's Bordetella vaccine, please contact your veterinarian's office to schedule an appointment for both vaccinations. If your veterinarian does not have the CIV vaccine available, you can get your dog vaccinated at one of these local clinics:
Airport West Animal Clinic
Animal Medical Service
Companion Animal Clinic
Lincoln Veterinary Clinic
Mapleway Veterinary Clinic
Nob Hill Animal Clinic
Selah Veterinary Hospital
Summitview Cowiche Veterinary Clinic
Yakima Veterinary Clinic
All dogs coming to K9 Country Club must have received
at least the first CIV vaccination by April 21, 2011.
Please provide a copy of the vaccination record for our files.
We appreciate your cooperation in helping us prevent the spread of this higly contagious and potentially fatal infection among the dogs in our care. If you have any questions, please let us know the next time you are in with your dog. We also have informational brochures available in our office and in the daycare building. Thank you!
Flea protection made easy
We require your dog to be wearing a topical flea/tick control on a monthly basis.
Would you like to take the hassle out of remembering to do this yourself?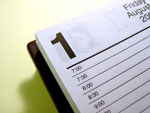 Would you like to save money as well?
We can put you in our reminder system and automatically do this for your pet every month!
Frontline special:
Buy 5 applications and get 1 free
That's $85.00 ($14.00/application)
Compare to pet store cost at $125.00/6 applications!!
That is a savings of $40.00!
If you prefer to do this yourself, we accept Frontline Plus, Revolution, or Advantix. Please provide us with the date of application EVERY MONTH.
A beautiful lawn
can be hazardous for your dog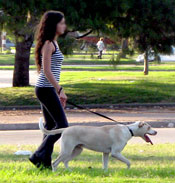 When walking your dog this spring, watch out for grassy areas and yards that have been treated with fertilizers and weed killers. Granular fertilizers are especially likely to cause problems if they get stuck in your dog's paws and are then ingested when the dog licks his or her feet. Ingesting the toxins in fertilizers can cause seizures and other health problems.
If you use fertilizers in your own yard, be sure to follow the package instructions to keep your pets safe. Spray-on fertilizers must be completely dry before they are safe for animals to come in contact with. Granular fertilizers must be thoroughly watered into the ground -- usually for several days to be safe.
If your dog gets fertilizer on his/her feet or fur, be sure to wash it off to prevent your dog from licking the stuff off.
Call ahead to be sure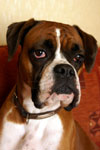 Our daycare areas are almost always full these days. If you decide to call in the morning or just drop by, we may have to turn you and your dog away. If you would like to guarantee a spot for your dog, please call ahead to schedule a regular day.
She's baaaaack!
We're very happy to welcome Nancy back to the pack! We all missed her smiling face in the front office... especially Boy!